The International MTB Hall Of Fame
Since 1988, the MTB Hall of Fame has been celebrating the people, places, bikes and races from the entire world of mountain biking. Founded in Crested Butte, Colorado, and since 2015 located at the Marin Museum of Bicycling in Fairfax, California!
Why Jason?
Whilst Jason was inducted into the UK MTB Hall of Fame in February 2010 we would love Jason to get the Worldwide recognition that we feel he deserves by being inducted into the International MTB Hall Of Fame.  In a conversation with Jim McRoy it was clear just how much this would mean to him, Rose, Justin and the extended McRoy family.
Speaking personally Jason was an icon to me growing up and whilst I never challenged any podiums he was one of the main forms of inspiration for me and my mates to go out and mess about on our bikes.  We never had his talent or flair but it never stopped us trying! Expanding on from that, Jason on the national and then the International circuit was a perfect example of how hard work, determination, raw talent and the support of an amazing family can get you to the top, it was never about big contracts.  Jason's style, character and general presence won him more hearts than he will ever be able to match in podiums and its one of the main reasons that Jason is fondly remembered by so many 24 years after his tragic death.
We Need Your Help!
Jason is the first posthumous nomination for the Hall of Fame and its credit to Jim McRoy's drive that Jason has already reached this stage of nomination.
Once voting opens on the 15th June we need to get everyone behind Jason and cast a vote on the International MTB Hall of Fame's website.
To vote you will need to be a member of the Hall of Fame, membership for voting only costs $7 and all those funds go to the upkeep of the hall of fame and associated MTB museum.
Bike Ninja Discount
Whilst we can't pay for your vote what we are doing is offering a 20% discount on our new JMC Legacy range of mugs when using the discount code VOTEJMC.
It would mean so much to so many if you would get behind this and cast your vote to put Jason in his rightful place.
Whilst we would love Jason to get your vote there is some big competition from the other nominees which also include the duo of Tym Manley and Steve Behr who between them have been hugely influential within the MTB scene with their creative partnership at MBUK magazine helping to establish and maintain MTB lifestyle in Great Britain and beyond.  With Tym's editorial skill and the stunning visual accompaniment from Steve they represent a massive reason for the rise of MTB over the last 30 years.
We can't do this without your support so please visit the Hall of Fame site and cast your vote.
Jason McRoy
"Do not follow where the path may lead, go instead where there is no path and leave a trail" was Jason McRoy's motto.
His story of overcoming adversity and indomitable spirit inspired – and continues to inspire – people worldwide to chase their dreams in cycling and life.
Jason McRoy is universally regarded as the first true Superstar of British Mountain Biking, paving the way for his peers and those that would follow him.
He was one of the first Brits to take the risk, financially and competitively, to race abroad.  At the Eliminator at Mammoth Mountain, he came second against some of the best names in the world.  While they were backed by well-financed professional teams, he was a privateer who just about raised enough money from his winnings to go to the next race.
He also had that rare ability to ride any bike well and not only that, his total determination to win is the stuff of legend.  For example, in the World Championships in Bromont, Canada, his front tyre flatted stopping him in his tracks.  Rather than give up, he ripped the tyre off and finished the race on the rim.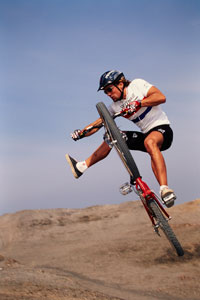 In this short time as a racer he won the British Points series twice, was ranked tenth in the world and inspired a whole generation of future champions to compete on the world stage. His legacy and inspiration go beyond cycling, and even today, 24 years after his death, people still relate how his story changed their lives. His peers also bear testimony to his role in the 'Brit Invasion' in Mountain Biking.
Steve Peat: "Jason was an awesome racer, he was almost ahead of his times as a DH guy.  The way he approached his training and racing was second to none and he was a huge threat on any type of terrain."
Rob Warner: "Jase used to race all the world cups pretty much as a privateer back then. He used to give it everything, never ever wearing any pads whatsoever, just a skinsuit.  Definitely watching JMC charge down all those hills was a huge reason why I got into downhill.
Will Longden: " Jason was the man at the top, the benchmark and the inspiration to all UK mountain bike riders. Most young riders take for granted International racing these days, but back then Jason opened the door of possibility to us all and lead the way!"
Matt Skinner (What Mountain Bike Editor): "His story was and is an inspiration: the first Brit to truly make it as a pro. I've often thought that his life – and particularly the story of him and his Dad taking the risk to race the US and to take it to the wire at Mammoth's Eliminator in order to win his prize money home – would be the stuff of a great sporting film. But he remains a true mountain bike legend and to this day, his riding still echoes in my head as the way to ride."
It is really difficult to encapsulate the story and what is often referred to as the legend of Jason McRoy in such a short space. As a pioneer he showed the UK – and the rest of the world – that by following your own path you can make breakthroughs that were thought out of reach to most.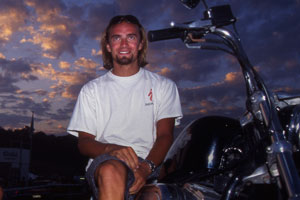 His fellow riders, Steve Peat and Rob Warner gave him two runs in the 1995 World Downhill Finals in Germany with his ashes, smuggled into Germany, strapped to their bikes in film canisters.
Rob Warner: "It was definitely an honour to carry JMC's ashes down.  It was really emotional.  I think it gave me and Steve something that week, I remember us absolutely flying in practice. It's still hard now to think about it all, I really wish Jase was with us still, I miss my old mate."
Steve Peat: "It was a huge honour to be able to race the World Championships carrying Jason ashes.  UK racing would have been different if Jason was still around and he is greatly missed by everyone."
In February 2010, some 15 years after his death, Jason was selected as one of the most significant riders of the last 50 years and was inducted into the British Cycling Hall of Fame alongside 49 other inductees.
To this day his impact on the sport and people's lives is acknowledged by many and he still has a huge following.
Timeline:
November 26, 1971: Born in Bedfordshire with a hole in his heart. It's a miracle he's born at all; considered a threat to his mum's life, doctors advise termination.
1983: After a BMX crash, he tears his cruciate ligaments. Jason undertakes intense leg routines in the gym to tighten the ligaments.
1988: Against medical advice he gets a mountain bike and enters his first downhill.
1991: Selected for the UK downhill squad at the Worlds in Il Ciocco.
1992: On Team MBUK, he sees that the future is in international downhill and spends a lot of time abroad. Sponsors think he should race in the UK and pull his sponsorship. Selected for the UK Worlds Team.
1993: The Grundig Downhill World Cup Series begins. He and his dad quit their jobs and hit the world circuit with only a bike sponsorship. In the US he wins $3,000 for second place in the Eliminator and a Tag watch for the fastest through the speed trap in Vail. The prize money enables them to travel to Hunter Mountain, where his ride on a broken bike impresses Specialized. Returns to UK and wins British Championship. Selected for the UK Worlds Team. Signs for Specialized USA.
1994: First year as a Specialized professional rider. Retains Championship title. Selected for the UK Worlds Team
August 24th, 1995: Jason dies when his Harley Davidson is struck from behind by a lorry at Woodhead Pass on the A628 in Derbyshire.
February 2010: Jason is inducted into the British Cycling Hall of Fame
Tym Manley and Steve Behr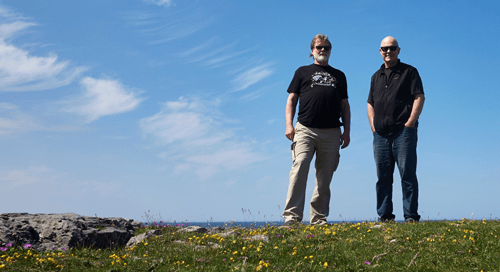 The creative partnership at the core of the magazine, launched in 1987, which established and maintained the MTB lifestyle in Great Britain and beyond and which was key to the UK's unique and continuing success in Downhill Racing and Freeride
Tym Manley was the first Editor in Chief and part owner of Britain's first mountain bike magazine, Mountain Biking UK (MBUK), which has been central, for thirty years and counting, to the development of a British mountain bike scene focused on freeride and downhill and majoring in anarchic humour and fun.
In the 80s, Steve Behr became obsessed by mountain bikes and applied his talent for photography to the early races and then to feature work. His career as a City lawyer had already begun to pall and as MBUK grew Steve was able quit his job and become chief editorial photographer.
Mountain Biking was hardly known in the UK back then, there was no support from cycling organisations, rather the opposite; no stars, no journalists just a small but fanatical riding community spread around the country in small pockets.
Tym came from mainstream lifestyle magazines and he set about building the scene, training journalists and creating celebrities from the talented riders who were beginning to emerge such as Jason McRoy, Rob Warner Martyn Ashton and Steve Peat.  After four issues, and kick-started tellingly by a cover feature on skydivers riding bikes out of a Skyvan, MBUK became a publishing phenomenon and promoted the sport in the UK as a grassroots lifestyle activity, made glamorous by the success of Britain's downhill and extreme riders, but always ballasted by combative testing of equipment and an emphasis on teaching the skills real mountain bikers needed to enjoy their riding.
Tym quickly identified the 70s Marin County combination of off-road epic rides, downhill racing and good natured lunacy as a natural fit for the UK and plugged the nascent sport directly into the spirit of those days, with Charlie Kelly on the masthead as US Editor from Day 1.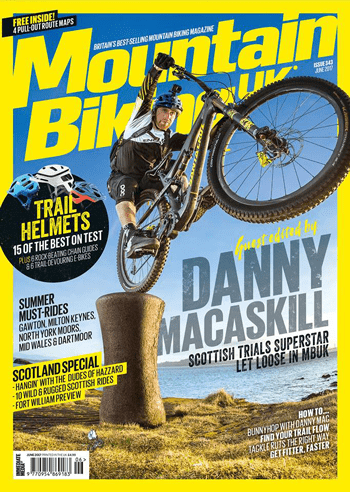 For a feature based magazine, great pictures were essential. Working closely together Manley and Behr invented ways to make dirt jumping, slalom, freeride, trials and racing look as cool as they were, inspired in part by the videos of Hans Rey, and had a lot of fun going to the extremes and sometimes a step too far.
MBUK was the first magazine to include 'freeride' features regularly before it was even called freeride. The effect was to spread the sport by sharing the innovations of the Laguna RADS, say, or a group of inner city trials riders with those of a gang of Scottish mountain night riders. The readers quickly joined in.
The mix of pro skills, enthusiasm and crazy humour communicated by the featured riders to the growing riding community, and the efforts of those grass roots riders who joined the magazine staff, and often became celebrities themselves while engaging with the readership, saw MBUK drive mountain biking pretty much on its own until the internet took over the community building duties late in the first decade of the 21st Century.
It was influential not only in the British Isles but in Australia, New Zealand, South Africa and the most naturally anglophone parts of Europe, Holland, Norway, Sweden and Finland. It was even licensed in Russia.
Steve Peat, Britain and the world's most successful downhill racer was there:
"When I was coming up, MBUK was British mountain biking. It had a huge influence on the UK riding scene and vitally important to the careers of the UK's first pro riders, sponsoring us as we tried to make our mark on the international race scene"
Visually it just got better. Steve Behr did more than create the image of the UK sport, he quickly inspired trust in the riders he worked with and in leading industry figures around the world and they brought him their input. He not only came up with great visual ideas but had the attention to detail and organisational abilities to bring off extraordinarily creative picture trips far from home on a tight schedule and even tighter budget.
As it began to make money, the owners invested in Team MBUK, the magazine-sponsored international Downhill Team, which included all the best British riders over the years, some of whom, like Steve Peat, went on to become World Champions.
Rob Warner, the first British rider to win a World Cup race and now the voice of World Cup TV coverage was one of them:
"We know mountain biking was cool, but Tym and Steve made it as cool as! The two of them have been a massive part of British mountain biking right from the beginning"
Underneath all the adrenaline fun and glamour, Tym Manley's editorial strategy was to ensure that MBUK's credibility was always solidly underpinned by its serious and independent testing of equipment (under the direction of the late Steve Worland), the promotion of good riding etiquette and teaching the skills and attitude needed to stay safe, because, as he was often to write by way of caution: "We hate to lose readers…"
Tym Manley launched other titles, notably MTB Pro and Privateer, reflecting changing reader involvement in MTB recreation and racing. He received Britain's Cycling Media Legend Award in 2016.
Steve Behr continues to shoot for MBUK today along with other cycling and mountain biking  publications in the UK and worldwide. He was inducted into the UK Mountain Biking Hall of Fame in 2013.
Tym and Steve continue to work together regularly on mountain bike projects.